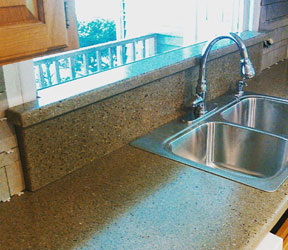 Precast Concrete

When many think of concrete naturally what comes to mind are driveways, sidewalks, garage and basement floors, but custom pre-cast concrete is now seen in many areas of modern homes.
Normally when someone says pre-cast concrete we think of large bridge sections or walls used to construct large retail buildings. Now, in our homes they are seen in areas like kitchen countertops, islands, bathroom vanities, patio tables, and decorative pieces.
Pre-cast residential items are custom made for the application. SAS will help you design your project, from size, color, and decorative edging, to working with your builder to have it ready when you have reached that stage of your project or remodeling.
The possibilities are endless, so give us a call and let's talk about your project!