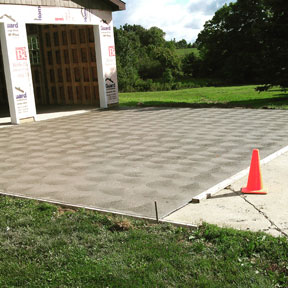 Swirl
Your own personal experience shows you that a smooth concrete surface is very slippery when wet, a quick trip across a wet garage floor can prove that. Many installers will just do what is called a "broom" finish to the surface of the finished concrete. SAS prefers to complete the job with a "swirl" finish.
Although it takes longer than a broom finish and skilled installers, it provides a more attractive completed job. The traction provided by a swirl finish will last longer than a broom finish without additional dirt and debris retention.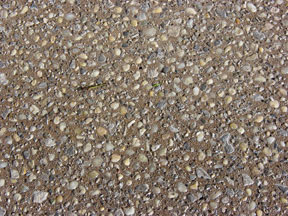 Exposed Aggregate

Exposed aggregate is a surface that is created by pouring the concrete and removing the top layer of cement cream to uncover a coarse, decorative stone which has been added into the concrete mix.
Color can also be added to the concrete mix if desired.
This creates a skid resistant finish that is attractive and durable.
The appeal of exposed aggregate is something like the appeal of a mosaic floor, though the patterns are random and natural. The finish is raised, pebbly, and offers a unique contrast to the common smooth concrete surface.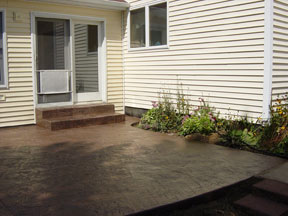 Stamping

Concrete Stamping gives your patio or sidewalks the unique look of natural stone. While the concrete is being prepared color is added and a "pattern stamp" is used to give the desired effect.
Possibilities are endless and the results can be quite amazing!